Takashi Murakami: Pisando la cola de un arcoiris
El extenso universo artístico de Takashi Murakami se está viendo actualmente en El ancho En la. Titulada "Takashi Murakami: pisando la cola de un arcoíris", la exposición marca artista japonés contemporáneosu primera exposición particular person en The Broad y reúne 18 obras creadas durante su carrera, así como nuevos digital Entornos cautivadores desarrollados en conjunto con el artista y su estudio, Kaikai Kiki Co., Ltd. En estas obras, que incluyen escultura, pintura, papel tapiz e instalaciones, Murakami explora temas como la globalización, el Japón de la posguerra, la cultura pop y la iconografía religiosa. .
En el centro de la exposición se encuentran dos de las pinturas monumentales del artista, "100 Arhats" (2013) y "En la tierra de los muertos, pisando la cola de un arcoíris" (2014), de 32 pies de ancho y 82 pies de ancho. de ancho, respectivamente. También se exhibe la escultura de 1999 "DOB within the Unusual Forest (Blue DOB)", que representa al icónico personaje inspirado en el anime de Murakami, Mr. DOB, una de las muchas figuras que el artista ha creado a lo largo de su carrera.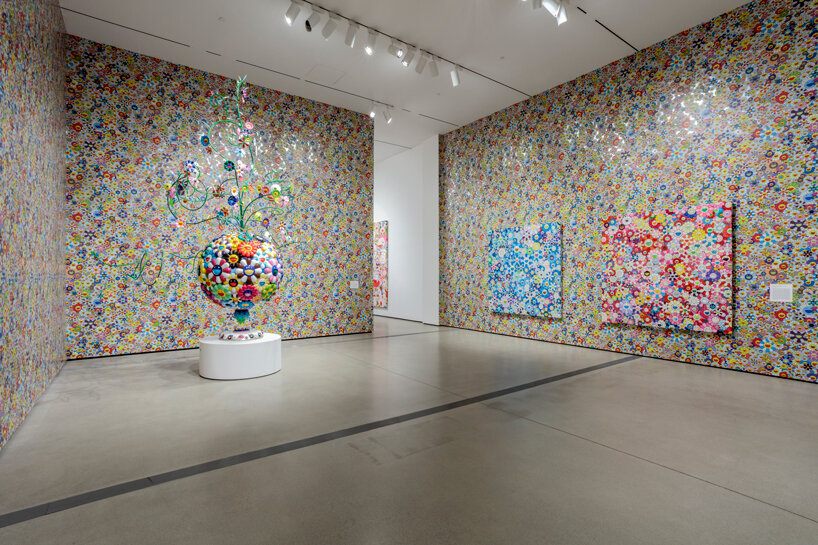 Takashi Murakami: pisando una cola arcoíris en The Broad | todas las imágenes de la exposición por Joshua White
Realidad aumentada + funciones cautivadoras en la exposición de Murakami
Con todas las obras del artista propiedad de El ancho y nuevos entornos virtuales de realidad aumentada (AR), "Takashi Murakami: Stepping on the Tail of a Rainbow" permitirá a los visitantes del museo experimentar el extenso universo artístico del artista. Para Takashi Murakami, "El interés explosivo en los metavers y la realidad digital y aumentada (AR) es un cambio social y cultural". Como parte de la exhibición especial de The Broad con el artista y en asociación con Meta's Spark AR, Instagram y BUCK, Murakami usa experiencias de AR para conectar sus pinturas y esculturas con estas realidades y tecnologías emergentes. Estas características de RA existen más allá del mundo físico dentro y fuera de The Broad, incluido el East West Financial institution Plaza, el vestíbulo del museo y una de las galerías de exhibición. A través de la aplicación de Instagram, los personajes de Murakami salen de sus formas físicas y entran en una existencia digital fantasmal. vestigios de lo que está por venir para la obra y el pensamiento de Murakami. Además, la exposición coincidirá con el lanzamiento de un catálogo que tiene en cuenta la práctica del artista a través de la colección Broad y los préstamos clave, publicado por DelMonico Books, The Broad y Kaikai Kiki Co., Ltd., con ensayos del curador de The Broad. , Ed Schad, Pico Iyer y una conversación con Murakami.