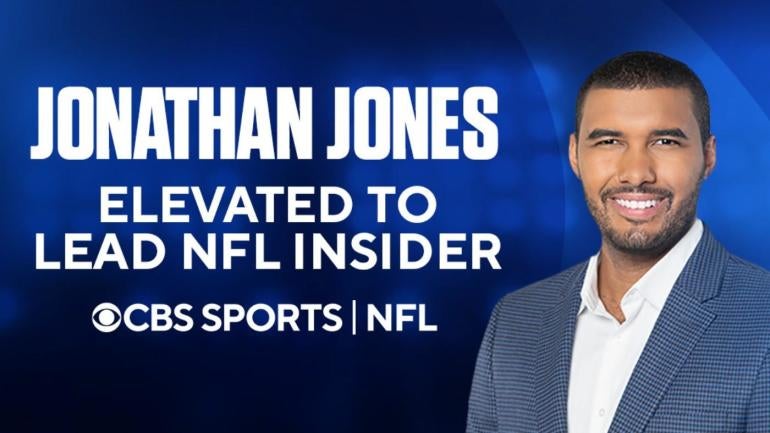 Relaciones públicas deportivas de CBS
El reportero sénior de CBS Sports activities NFL, Jonathan Jones, ha sido ascendido para liderar NFL Insider en las múltiples plataformas de CBS Sports activities, brindando informes y análisis detallados durante todo el año para el programa de la NFL en CBS Tv Community, THE NFL TODAY y CBS Sports activities HQ. , CBS Sports activities, CBSSports.com y podcasts de CBS Sports activities Community. El anuncio fue hecho hoy por Harold Bryant, productor ejecutivo y vicepresidente ejecutivo de producción de CBS Sports activities.
Jones se unirá a James Brown, Boomer Esiason, Invoice Cowher, Phil Simms y Nate Burleson en THE NFL TODAY durante la temporada de la NFL que comienza en septiembre y continuará informando sobre las últimas noticias y puntajes de la NFL en todas las plataformas de CBS Sports activities. año. Desde que se unió a CBS Sports activities en 2019, Jones ha cubierto la NFL para ESE OTRO ESPECTÁCULO PREVIO AL JUEGO (TOPS) en CBS Sports activities Community y CBS Sports activities HQ y también ha contribuido como reportero principal de la NFL para CBSSports.com.
"Jonathan es una estrella en ascenso en nuestra industria, con relaciones, conocimientos y perspectivas increíbles en la NFL, y estamos emocionados de expandir nuestro rol en CBS Sports activities", dijo Bryant. "Durante los últimos tres años, ha demostrado una gran versatilidad en todas nuestras plataformas, desde la televisión hasta la transmisión y la escritura, informando e iluminando a los fanáticos de la NFL con su capacidad para brindar noticias, informes perspicaces e historias detalladas".
"Tener este papel y unirme a este equipo en el programa de televisión anterior más prestigioso es un trabajo de ensueño", dijo Jones. "Me siento honrado y humillado de ser parte de un espectáculo que ha establecido el estándar para leyendas como Irv Cross. Mis compañeros de equipo TOPS, HQ y CBSSports.com me han apoyado desde el principio y estoy emocionado de seguir trabajando para CBS Sports activities Household y con fuentes confiables en toda la NFL".
Antes de unirse a CBS Sports activities, Jones trabajó como escritor nacional de la NFL durante tres años en Sports activities Illustrated. Habló sobre los Carolina Panthers como escritor borracho para el Charlotte Observer de 2012 a 2016 y ha estado en la industria del periodismo deportivo desde 2005. Nativo de Shelby, NC, Jones se graduó de la Universidad de Carolina del Norte, donde también participó en deportes. editor del Each day Tar Heel.
require.config();