MATHIEU LEHANNEUR QUIERE ELIMINAR LAS DEFINICIONES ENTRE DISEÑO, CIENCIA, ARTE Y TECNOLOGÍA
Durante la edición 2021 de Artwork Basel, Mathieu Lehanneur presente estado del mundo una exposición que convirtió a las poblaciones en movimiento de la Tierra en objetos escultóricos. Para Semana del Diseño de Milán 2022El diseñador francés continúa su exploración del tema con una exposición private en Trienal de Milán cuidado por María Cristina Didero con derecho Inventario de vida.
Compuesto por cuatro instalaciones: State of the World, 50 seas, Reside / Depart y How Deep is Time, Lehanneur tiene como objetivo borrar los límites entre el diseño, la ciencia, el arte y la antropología.
"La thought principal detrás de esta exposición es tratar de convertir la información en emoción". Mathieu Lehanneur dijo designboom durante la inauguración de la exposición.

todas las imágenes por Raf Studio – Felipe Ribon, a menos que se especifique lo contrario
vídeo © designboom
EL INVENTOR DE LA VIDA INVESTIGA EL ESTADO DEL PLANETA
Inventario de vida exposición de Mathieu Lehanneur (ver más Aquí) en la Triennale Milano investiga el estado del planeta, teniendo en cuenta la fragilidad y la naturaleza efímera de la vida humana, acompañado de un reconocimiento del daño a largo plazo causado al medio ambiente por el cambio climático, con un enfoque especial en el aumento del nivel del mar y del mar. niveles ecosistemas
Las cuatro instalaciones diferentes toman datos científicos y estadísticos y los traducen en piezas de diseño y arte, utilizando estas disciplinas para fomentar una conexión entre los datos, el planeta y el medio ambiente. "En mi trabajo, como diseñador, artista o arquitecto, ya sea que produzca una pieza única o producida en masa, quiero que cada pieza hable de manera única". dijo Mathieu Lehanneur.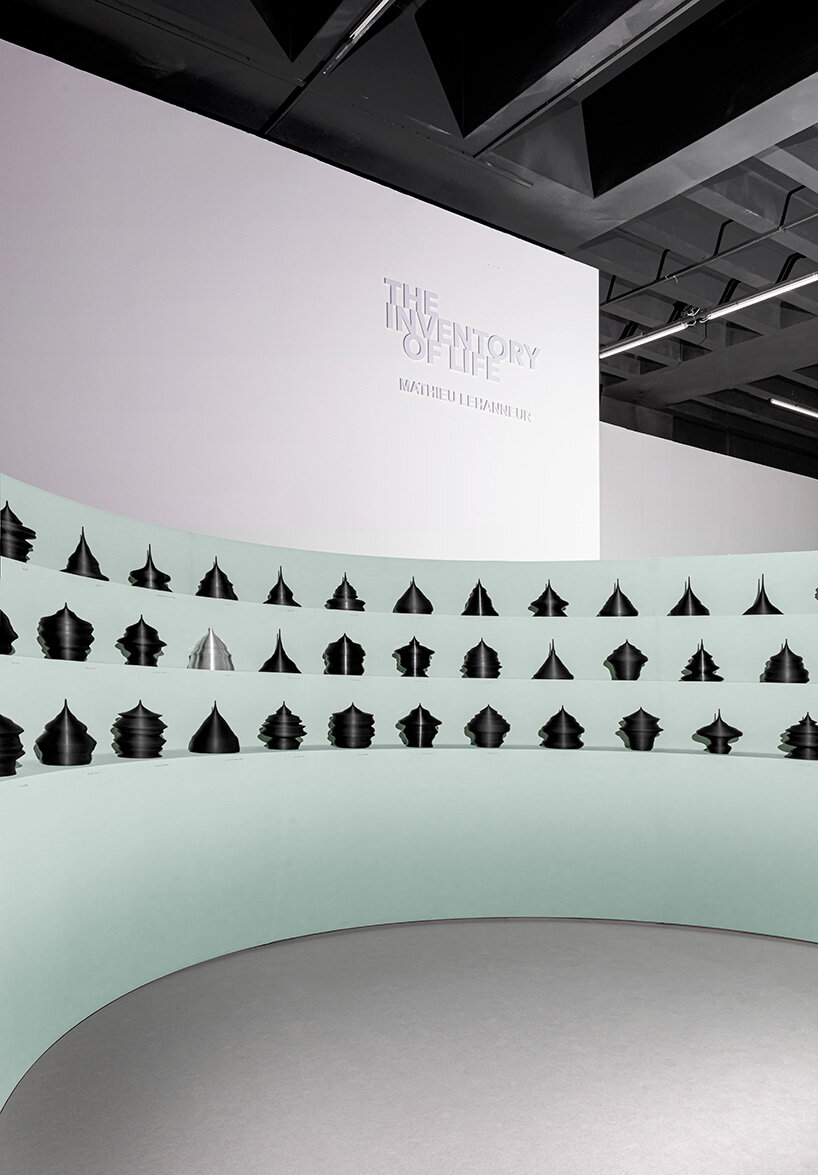 En el estado del mundo Lehanneur representa tanto el pasado como el futuro del mundo en una serie de "pirámides" escultóricas. Las formas de las esculturas de aluminio toman la forma de las poblaciones cambiantes de diferentes países del mundo. Usando estadísticas comúnmente estudiadas por sociólogos y demógrafos, el artista crea una "instantánea" de todas las personas que viven en más de 140 países en la actualidad.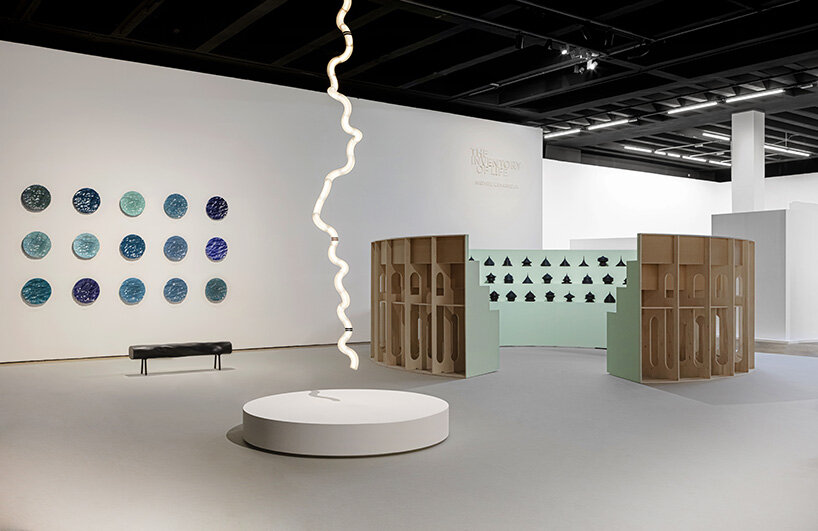 50 mares es una colección de cincuenta obras de cerámica esmaltada inspiradas en las múltiples tonalidades y matices del mar. Desde el golfo de Guinea hasta el golfo de Hudson, desde el mar de Weddell en la Antártida hasta la bahía de Bengala, las piezas cristalizan el esquema de coloration international del entorno líquido del mundo, seleccionando una topología cromática del océano para rendir homenaje a sus sutilezas.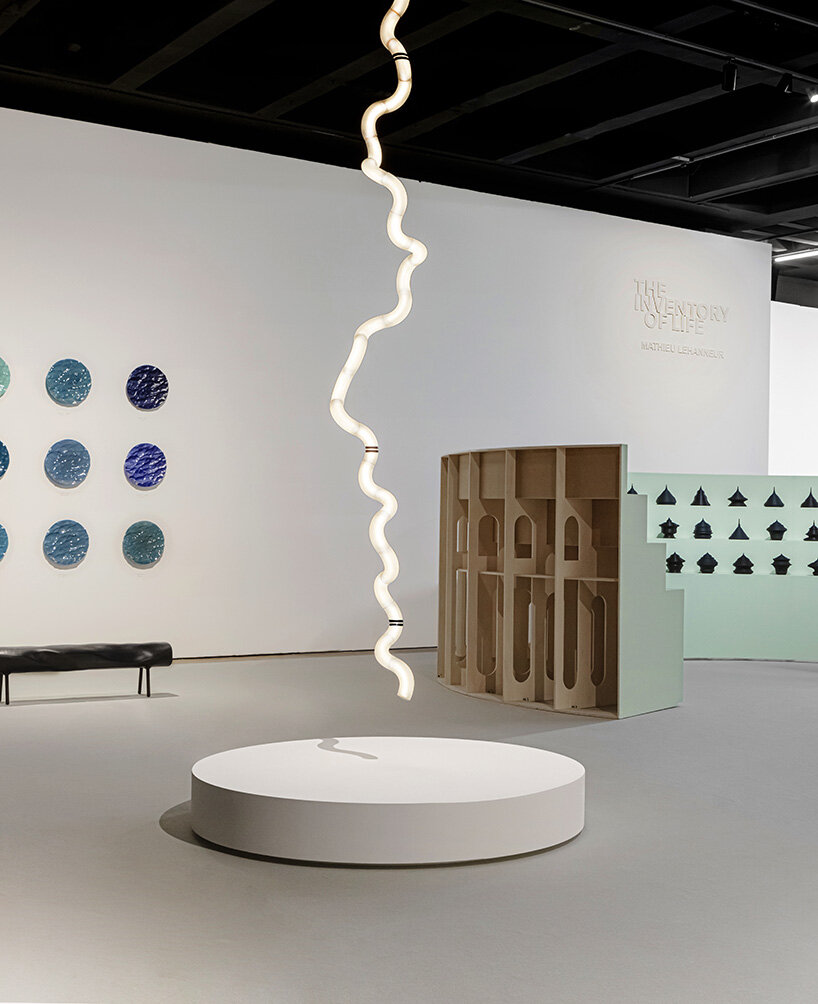 En el ¿Qué tan profundo es el tiempo?, un filamento de vidrio luminoso que cuelga del techo es una proyección visible y, al mismo tiempo, una predicción del cambio del nivel del mar en un futuro próximo. Debido a que esto es incierto, y las estimaciones son mutuamente variables, Lehanneur concreta en este artículo varias predicciones, ligeramente discordantes entre sí, pero igualmente críticas para la humanidad.